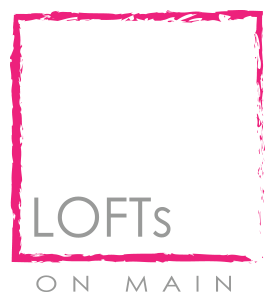 Fitness room
Rooftop courtyard
Common room
Television lounge
Laundry facilities
Gallery space for resident artists
Performance space
Internet café
Elevators
On-site management
On-site superintendent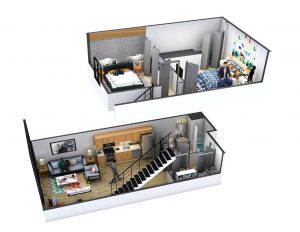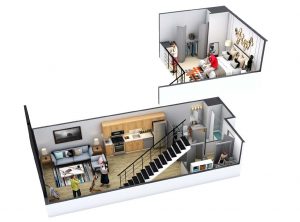 Gas-fired forced air heating and cooling system
Hot water
Energy-efficient refrigerator, range and oven
High-speed internet access
Cable television hook-ups
Most lofts have 16 foot high ceilings and 10 foot high windows
Audio/visual and mobility adapted apartments available
Lofts on Main is designed in a way that will help the artists grow and prosper at their profession. The Project is designed as a community setting, which will foster a strong sense of community. A large community area will be located in the courtyard between building one and building two. This courtyard will have space dedicated to the resident artist to display sculptures and work suitable for the outdoors. In addition, the lobby of the first building, which fronts on Main Street, will also act as a Gallery space for the resident artist to show their work at no cost. This gallery will open up to the courtyard and will be available to the artists for showings and performances. This design will capitalize on the already thriving artist community in the City of Peekskill.
All the units in Lofts on Main will be set a below market rents. The artist units will start at $888.00 per month for a one bedroom and $1,059.00 for a two bedroom. The non-artist units will start at $1,350.00 per month for one bedroom and $1,600.00 for a two bedroom.
The Lofts on Main development was designed and is being built in a conscience and sustainable manner. The buildings will be LEED certified. In addition, the development boasts numerous amenities. Such amenities include on-site laundry, on-site super-intendent, on-site management office, on-site gallery space for the resident artists, a fitness room, a community room, a rooftop terrace with views of the Hudson River, as well rooms specifically designed as performance practice spaces.
For information regarding the certification process and to obtain an application through the City of Peekskill, please visit the following web links and contact us in case of any questions or concerns.
Please mail applications to:
Kearney Realty & Development Group
34 Clayton Boulevard, Suite A
Baldwin Place, New York 10505
For questions or further information please call: (845) 306-7705
or email: lompeekskill@aol.com